We guarantee the products we use and the labor we hire to be of the finest quality money can buy. Our lead technician, James Strodel, has been with ROL since 1990. How many of our competitors have a foreman who has 28 years' experience in the lawn maintenance and landscape field, with the same company? In my opinion, there is no one in this business with more experience and expertise than James. And, no one will work as hard to make sure your lawn looks as best it can possibly look. With that said, we promise to do everything possible to make sure each and every customer is completely satisfied with our programs and services.
We are not a discount service. We don't service thousands of customers like many of our competitors. Think about this… Anyone can offer low prices. However, in most cases, the only way a company can offer the lowest price is to use the cheapest labor and cheapest products.
Since 1978, we have only serviced a few hundred customers at a time. We know the names and lawn conditions of each of them. We'd like you to think of our company as your private caretaker… If a problem arises, or if you have any questions or concerns, we want you to know that your personal technician, our secretary, or the owner himself will react promptly to meet your need.
Our Programs
We offer three general programs. Each are a six-step program, plus lime. However, we can customize any program to meet your individual needs and/or budget.
1. Our Traditional Program – like most of the affordable programs offered in New Jersey, we use products that are approved and regulated by the New Jersey Department of Environmental Protection, making sure they are the safest products possible to be applied on your property.
2. Our "BeeSafe*" Total Organic Program – uses 100% organic products
3. Our new "BeeSafe Hybrid*" Program – Uses as much organic products as needed and as little non-organic products as need to assure your lawn looks great.
*Generally speaking, depending on the size and condition of your property, the prices of our "BeeSafe Hybrid" program
is approximately 30% higher in cost than our traditional program because of the costs of organic products. The cost of our "Bee Safe Total Organic is the same cost as our Traditional Program. We do not use any pesticides with this program. Customers are to keep their expectations low as far as lawn quality with this program, and as a result, should expect common problems with weeds, fungus and insects.
Traditional BeeSafe and Hybrid Programs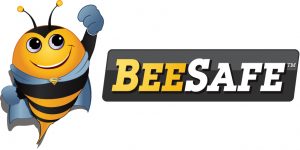 This is what is included in our Traditional and BeeSafe Hybrid programs:
Up to 6 applications of Fertilizer, Two applications of pre- emergent weed control, up to 6 applications of post emergent weed control, One application of surface insect control, and lime.
This is an example of what is not included in our programs:
Fungus Control, Grub Control, Certain types of weed control (such as kyllinga, nut sedge, poa annua, etc)
Why are some products included and some are "extra's"? Why not just include everything and charge accordingly? Great questions.
Because some customers may never get a fungus…or kyllinga….or nut sedge. And, because we have found through years of experience and countless hours of continuing education courses that Grubs can, in most cases, be treated effectively every other year, and sometimes every third year.
Grub control is one of the most dangerous of all the pesticides that we use. Why use it each year when we can use it only every other year??? Making unnecessary pesticide applications will only pollute and help contaminate our environment. Unlike most of our competitors, we will never make an unnecessary application.
Our Promise
I want our customers to understand that we provide a universal "traditional" program created with years of experience and research, that, in most cases, works without the need of supplemental applications or products. However, because New Jersey lawns are subjected to such an array of unusual weather and environmental patterns, there will always be exceptions. In other words, droughts, heat waves, humidity, excessive rain, and other conditions will influence lawn activity. When you think about it, it's not really reasonable to assume that each lawn will react perfectly and exactly the same with our universal program(s). For example, if your lawn is facing South with a full sun exposure, and you are watering every day for an hour per zone, how can the lawn that is across the street react the same way to our products if they are facing North, have lots of oak and pine trees, lots of shade, and water every third day for 20 minutes per zone?
Why do I bring this up? Because I want you all to know that some lawns may need more work and more applications than others. If we are on your lawn to make an application of fertilizer and a post emergent weed application, and see a fungus, (which is an "extra") we want to be able to treat the fungus while we're there. The sooner we can treat a problem, generally speaking, the sooner we can correct the problem, or at least stop or slow down any potential damage. Will an additional application such as this result in an additional cost? Yes.
There needs to be a certain amount of trust between our customer and our technicians. We will never make an unnecessary application and/or charge our customers for an application they don't need for two important reasons.
The obvious reason; We will never cheat anyone, ever.
Fertilizers and pesticides are harmful to the environment, and therefore to you, me and our families, friends, neighbors, pets, and water sources. We will never make an unnecessary application.
We respect the fact that you may request advance notice before we make an additional application, which will result in an additional cost to you. However, please be aware that it may take several days or possibly more than a week for us to return to make an additional necessary application. It is possible that in the time it takes us to return, the "problem" may be far worse than the day it was originally detected.
If we do not hear from you, we assume that you trust us to make the decision to treat your lawn as we feel necessary, and to charge you fairly and honestly for any and all services and products used over and above our standard, universal program.
If you have any questions or comments, please feel free to contact us at any time. We appreciate and respect your business and will do everything and any thing possible to keep our customers happy.